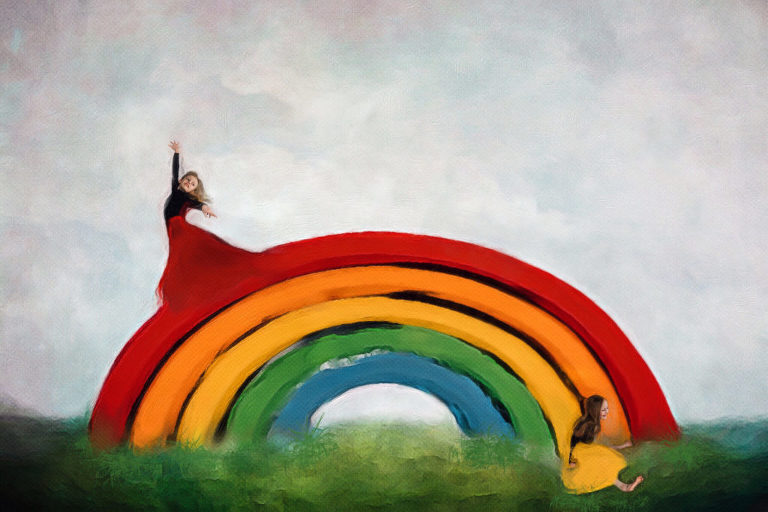 I found myself in a fog, for quite some time, after schools were closed until further notice. My husband, being one of the brave health care workers still going to work everyday, was getting regular updates on rapidly changing hospital plans to prepare for what is to come. The anxiety was palpable. The immediate questions of how to reschedule our days, will I need to homeschool the girls? What will this mean for my husband as he possibly begins to work more and more with people very sick from this virus. What will that mean for our family? Sifting through all the helpful links of resources, figuring out what to do with my scheduled sessions and what this could mean for my business in the months to come, worrying about friends and family in health care or who fall into a more at risk population. In those early days, as social distancing was becoming the new normal around the country, I started seeing more and more images around social media with rainbows in windows and the saying 'let's all be well'. I loved the joy these represented but struggled to relate. Picking up my camera felt like a chore and yet I felt a desire to document what was happening. It was hard to find inspiration anywhere.
And then an idea hit me. I could use the girls rainbow toys and my colorful skirts to make a composite image. It's a simple thing, but that one idea made me feel more alive than I have since this all hit. I didn't worry about chores, or about schooling that day. I didn't worry about anything. It felt so good to get lost in a creative project. And the girls had fun too! It was a much needed reprieve.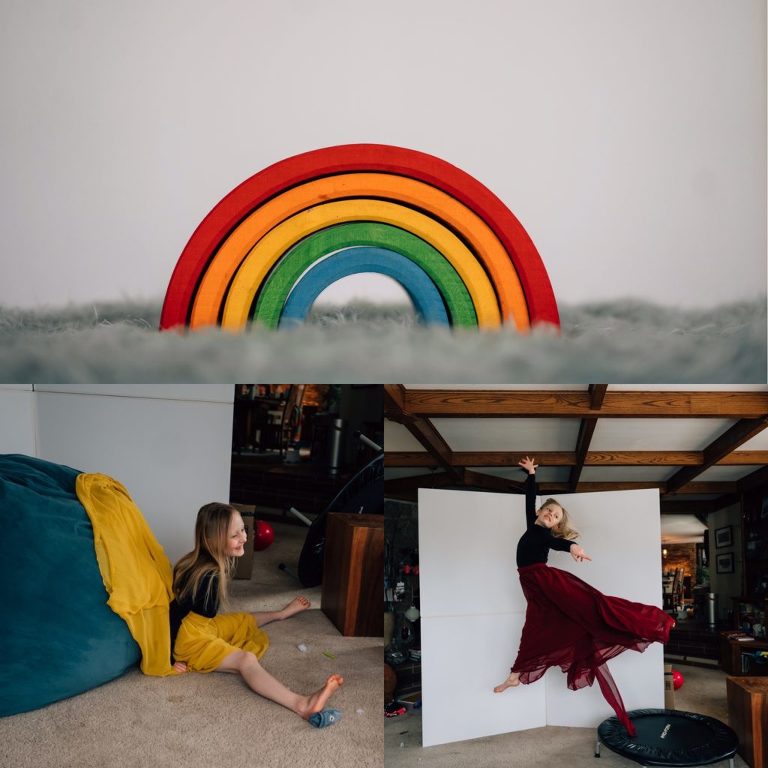 While editing, I wanted it to look messy, because that's how things feel right now. I didn't mind that it wasn't realistic. It was fantasy, an escape from reality. It was bright and colorful, something that is not typical of my regular style. The girls and I started thinking of other rainbow toys that could be used. And I am fully embracing the bright colors, whimsy, and joy. When I look at this collection so far I feel those things. I also feel a certain amount of forcedness in some of these. But I embrace that as well, because I can relate to it. Because sometimes I need to make an extra effort to find the light or joy, or to relax and take a deep breath, given what is happening all over right now. I also know that sometimes when I work on these I am not feeling joyful, quite the opposite. But I know in the process of making these, it lifts my spirits. I am thankful for creative expression, and its ability to process the fear and uncertainty and turn it into something that hopefully inspires others in some way. Here is what I have so far. Maybe by sharing these it will spread a little joy.