7 women, 4 countries, 1 colorful dress. This is my story with the Colorful dress for the Traveling Dress Collective.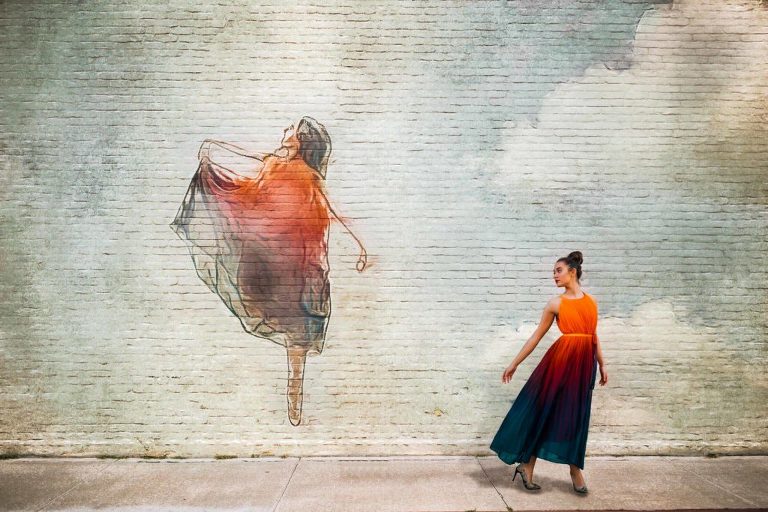 I was beyond thrilled to be asked to participate in another Traveling Dress Collective Project, alongside some incredibly talented photographers! For those unfamiliar with this project, each photographer in the group gets one week to photograph with a dress then the dress gets shipped to the next person in the group. Only after all members have had a turn with the dress and finished their editing can we share our final images. It's so exciting!! The first step for the group … pick the dress. In all honesty, this was not my first choice. I was a little intimidated by it. It is unlike anything I have photographed before and I had no idea what I was going to do. I am so grateful for the vision my group had! My nerves quickly turned to excitement as I began brainstorming.
I was inspired by the bold, vibrant colors. I loved the versatility, that you can wear it neatly tied around the waist or free flowing. As I was thinking about what I would do with my time, my daughter took a school field trip to an old school house. She returned with a list of rules for women teachers of that time that read as follows:
You will not marry during the term of your contract.
You are not to keep company with men.
You must be home between the hours of 8pm and 6am unless attending a school function.
You may not loiter downtown in any ice cream stores.
You may not travel beyond the city limits unless you have permission of the chairman of the board.
You may not smoke cigarettes.
You may not under any circumstances dye your hair.
You may not dress in bright colors.
You may not ride in a carriage or automobile with any man unless he be your father or brother.
You must wear at least two petticoats.
Your dress must not be any shorter than 2 inches about the ankles.
This became my inspiration! A desire to break free from opressive restrictions. I contacted this historic schoolhouse to use that as the location, but was not able to schedule ultimately. I decided to take this concept of restriction and the desire to break free and photograph where I could. I knew Aurora would be wonderful for this project, as she is a dancer and so wonderful to photograph! Luckily she agreed and was up for anything! Thank you so much, Aurora, for being so awesome! Right away I thought of this new coffee shop in town (Uptown Coffee Company), I love the look and feel of the place! The owners mentioned the building next door was under construction and that we could photograph there if we wanted. Brilliant!! We got to photograph inside an empty storefront window. It was so cold that morning, which lead to some awesome steamy windows! This also meant that we would need to meet a second day to photograph outside around town … when it was a little warmer!
I organized the images in a loose progression from restricted to free and incorporated some freelensing and some composite images. I am so grateful to be a part of this project! It is so fun to see how each individual artist works with the same dress, and these ladies are so incredibly talented I encourage you to check our their instagram pages to see more of their time with this colorful dress! Jyotsna Bhamidipati, our group leader who brought us all together. Bree Friesen. Michelle Pellachini. Diana Hagues. Cindy Knight. Christina McLauchlin.